Lyme disease in modern Ireland: the importance of home imaging
Sir
We report a case of confirmed Borrelia  Burgdorferi  (Lyme Disease) in a Regional Paediatric Centre in Ireland. Although common in other countries, Lyme Disease is rare in Ireland and thus it is important for physicians to recognise the signs and symptoms of this treatable but potentially dangerous infectious disease. In our case the presenting feature was erythema migrans, the most common presenting sign of Lyme Disease. This was not present on referral to Paediatrics but was recognised from a photograph on the father's phone. The teaching point of this case is increasing awareness of Lyme Disease and of Erythema Migrans as a common sign.
A 14-year-old boy presented to a Regional Paediatric Emergency Department with a two week history of malaise, lethargy, pyrexia and vomiting. He was visiting Ireland from upstate New York, USA, where he had been camping three weeks previously in a woodland area. On presentation to the Paediatric Registrar on call, the father of the patient showed a picture on his phone of a rash that had been present on the patient's arm three days prior. The photo showed erythema migrans around the extensor surface of his left forearm (Figure 1). He had no recollection of receiving a tick bite.  Borrelia  Burgdorferi  serology was subsequently positive, confirming clinical suspicion of Lyme disease. He was treated with oral doxycycline and IV fluids and made a full recovery.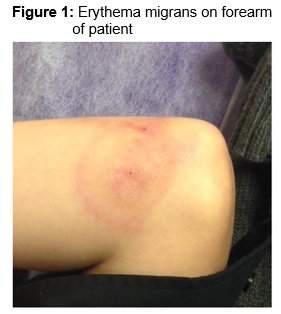 Lyme disease has an incidence of 0.3 and 0.6 per 100,000 in the UK and Ireland respectively1. Due to its low incidence it is a diagnosis that is often poorly recognised. The paediatric population in Ireland is increasingly diverse. Immigration has increased exponentially and we have a thriving tourist trade making diagnoses that are not historically common in Ireland more frequently encountered. Lyme Disease is transferred to humans from a bite of an Ixodes tick. It can be prevented by measures such as using insect repellent2, wearing long trousers/tops when in endemic areas and removal of the tick once it is noticed. If untreated, Lyme disease can have long term implications including neurological complications3, arthitis4, and chronic skin disorders2. Erythema migrans is the most common sign of Lyme disease and generally occurs around the area of the tick bite around a week after the bite5,6. This case highlights the importance of the use of parental recording or photograph taking at home. This diagnostic test is also useful for paroxysmal attacks such as seizure episodes at home, and video or photographs can often clinch the diagnosis. In this case it would have been significantly more challenging to reach the diagnosis of Lyme Disease without the photograph of the rash, given that it had disappeared by the time the patient was referred to Paediatrics. Other common presentations include fever, headache, lethargy and joint pain. Given that Lyme disease is rare in Ireland it is important that all healthcare professionals providing care to children and adults are aware of the signs and symptoms of this disease.
E Forman, M Rice, O Neylon, Sligo General Hospital, The Mall, Co Sligo
Email: [email protected]
References 
Lindgren E, Jaenson T, editors. Lyme borreliosis in Europe: Influences of climate change: epidemiology, ecology and adaptation measures. Copenhagen: World Health Organization Regional Office for Europe; 2006.
G Strle F:Lyme disease: European perspective". Infect. Dis. Clin. North Am.2008 22: 327–39.
Auwaerter PG, Aucott J, Dumler JS : Lyme borreliosis (Lyme disease): molecular and cellular pathobiology and prospects for prevention, diagnosis and treatment. Expert Rev Mol Med 2004 6: 1–22.
Puius YA, Kalish R:. Lyme arthritis: pathogenesis, clinical presentation, and management. Infect. Dis. Clin. North Am. 2008 22 (2): 289–300
Wormser GP, Dattwyler RJ, Shapiro ED,  Halperin JJ,Steere AC,Klempner MS, Krause PJ, Bakken JS, Strle F, Stanek G, Bockenstedt L, Fish D, Dumler JS,Nadelman RB.  The clinical assessment, treatment, and prevention of Lyme disease, human granulocytic anaplasmosis, and babesiosis: clinical practice guidelines by the Infectious Diseases Society of America. Clin Infect Dis 2006;43:1089-1134.
Stanek G, Wormser GP, Gray J, Strle F. Lyme borreliosis. Lancet 2012;379:461-473.
P400