Down Syndrome with Transient Neonatal Hepatitis
Q. Ali, N. McCallion
Department of Paediatrics, The Rotunda Hospital, Dublin.
Sir,        
There is a recognised increased incidence of cholestasis in infants with Down syndrome who have GI anomalies. In the largest series reported to date, Arnell and Fischler reported an incidence of cholestasis of 3.4% of infants with Trisomy 21. They found that it was always associated with other anomalies, particularly with GI or bone marrow problems such as TAM. It was transient in the majority of infants, but associated with a fatal outcome in up to 25% of affected babies.
A new-born infant delivered by SVD at 39 weeks with an antenatal diagnosis of Trisomy 21. He required no resuscitation. He was noted to have jaundice on Day 2 of life, and found to have a total/direct bilirubin (µmol/L) of 208/153, AST/ALT (units/L) of 92/58 and thrombocytopenia. He had normal coagulation and normal viral hepatitis markers, TORCH screening, alpha-1 antitrypsin level, anti-Ro, anti-La, anti-nuclear, anti-dsDNA antibodies, serum amino acids, urine organic acids, serum lactate, serum ammonia, thyroid profile, urine culture, and PCR blood for CMV. TAM was ruled out with normal peripheral blood smear; biliary atresia was ruled out and a gastroenterology consultation was arranged. There was no family history of liver disease. A provisional diagnosis of idiopathic neonatal hepatitis was made in the absence of any positive findings on investigation. The infant was managed conservatively with medium chain triglyceride (MCT) based milk formula and fat soluble vitamin supplementations. Initially weekly LFT's and later with more interval blood tests were repeated. He was closely followed up as an outpatient. The bilirubin levels and liver enzymes increased initially, highest at 4 weeks of life with subsequent gradual resolution to normal levels at 3 months of age (Figures 1 & 2).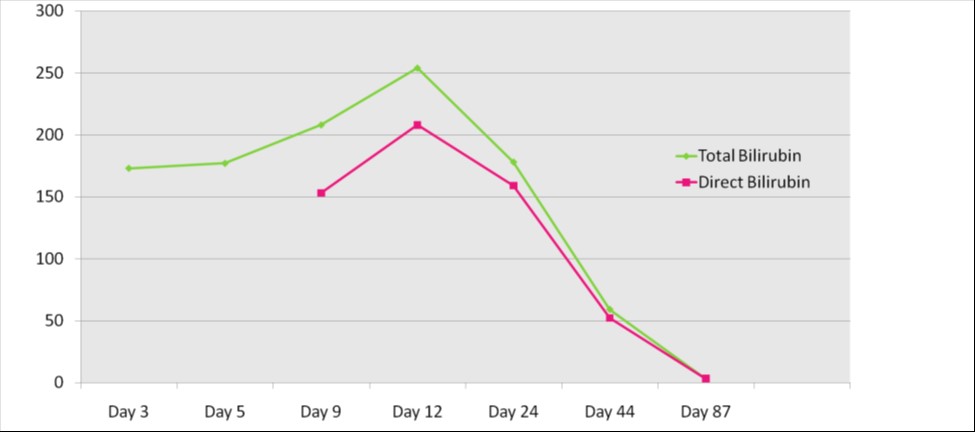 Figure 1: Serial serum Total and Direct Bilirubin in µmol/L.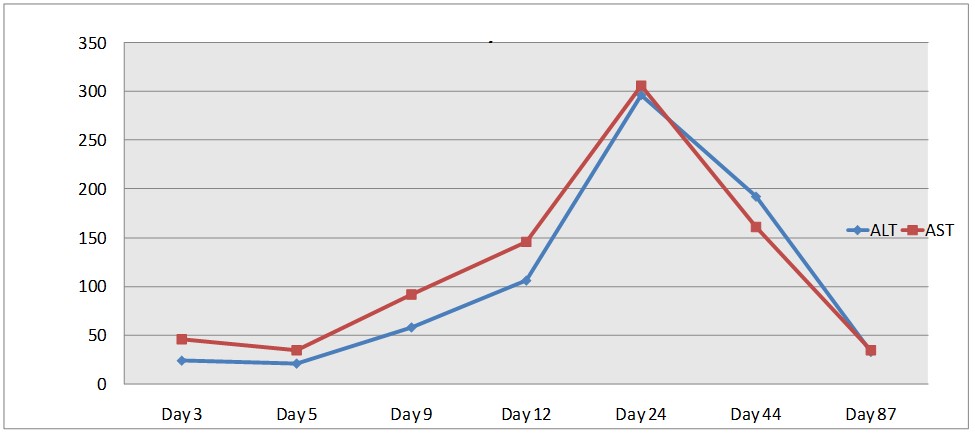 Figure 2: Serial Liver enzymes ALT and AST in units/L.
The largest series reporting on cholestasis dates from 2012, where Arnell and Fischler described its occurrence in 8 of 183 infants with Trisomy 21. That group found that it only occurred in combination with other anomalies, particularly TAM or GI malformations. Our case is unusual in that the conjugated hyperbilirubinemia and LFT disturbance were found in isolation. It was managed conservatively, with advice from specialist colleagues in the GI service. It underwent complete resolution over the following months.
Upon identification and management of this case we recommend following learning points. Firstly, early onset Idiopathic neonatal cholestasis could be present in Down syndrome babies. Direct bilirubin and LFT measurement may be warranted in the routine investigation of even early (<2 weeks) jaundice in infants with Trisomy 21. Secondly once serious underlying pathologies have been excluded, in particular TAM, a conservative dietary approach to management may be appropriate in consultation with GI colleagues.
Corresponding Author:
Dr. Qamar Ali,
Clinical Fellow Paediatric Hepatology,
King's college Hospital London.
E mail : [email protected]
References:
1. Arnell H, Fischler B. Population based study of incidence and clinical outcome of neonatal cholestasis in patients with Down syndrome. The Journal of Pediatrics [J Pediatr] 2012 Nov; Vol. 161 (5), pp. 899-902. Date of Electronic Publication: 2012 Jun 01.
2. Sathya, Pushpa; MacPherson, Peter; Pushpanathan, Chitra. Paediatrics & Child Health (1205-7088); Pulsus Group Inc. (Oakville, Ontario) Aug/Sep2015; v.20 n.6, 289-291. (3p).
3. Losa I, Owoeye A.BMJ Case Rep 2015.doi:10.1136/bcr-2015-212852.
P922