Extramammary Paget 's disease Of Glans Penis: A Rare Case Report
 Inder M S, O'Kelly F, Sheikh M, O'Hare K, Barbara M L, Thornhill J A
Department of Urological Surgery, Tallaght Hospital, Dublin 24
Abstract
We present the case of an 83-year-old man with Extramammary Paget's disease (EMPD) of the penis. He underwent a total penectomy and histopathology confirms the association of underlying invasive high grade urothelial carcinoma. Penile EMPD is rare and can be misinterpreted for benign skin conditions. A high index of suspicion is required for correct diagnosis and appropriate treatment.
Introduction
Mammary Paget's disease of the nipple, described by Paget in 1874, and Extramammary Paget's disease (EMPD) reported by Crocker in 1889 are morphologically and histologically identical except for their anatomic location. EMPD, a rare intraepidermal carcinoma can also extend into the dermis. It occurs in the elderly and involves apocrine gland bearing areas. It may also represent an epidermotropic metastasis from carcinoma of the rectum, bladder, urethra, prostate or endocervix. Very few cases of penile EMPD are reported and thus the condition could be overlooked in clinical practice.
Case Report
An 83-year-old male presented with distal penile pain and blood per urethra. His past medical history included cystoprostatectomy for bladder cancer, diabetes mellitus type 2, coronary artery bypass surgery and chronic liver disease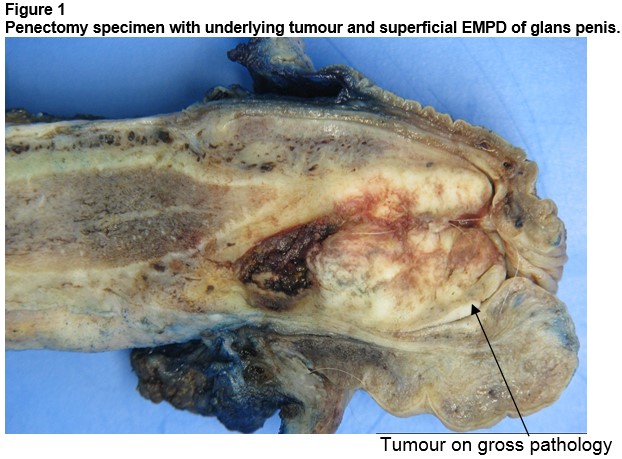 On examination there was an ulcerating lesion with erythematous patches on the glans penis with separate palpable mass in the perineum. Inguinal lymph nodes were not palpable. Biopsy of the lesion revealed intra-epithelial pagetoid spread of malignant cells within squamous epithelium with features of EMPD. Urethroscopy and urethral biopsies revealed invasive urothelial carcinoma of the urethra. Staging CT of his thorax, abdomen and pelvis were negative for lymph nodes involvement and distant metastasis.
He underwent a total penectomy and urethrectomy to distal margin of his previous cystoprostatectomy. Local lymph nodes were not sampled and frozen-sections were not sent. Histopathology revealed extensive high grade urothelial carcinoma of the urethra invading into corpus spongiosum and glans penis with pagetoid spread of carcinoma cells into the penile skin (Figure 1 & 2). Proximal margins were uninvolved. The patient's case was discussed at our multidisciplinary team meeting and the consensus was for a regular interval follow-up (physical examination and CT scans) to rule out local and distant metastasis. At three and 6 months follow-up, our patient had no recurrence.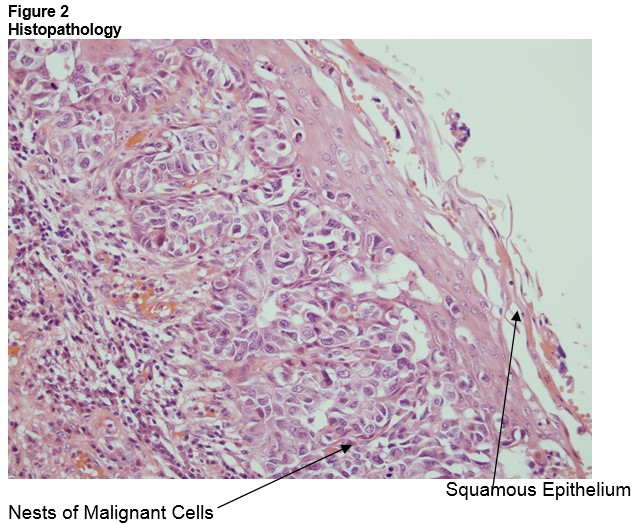 Discussion
EMPD is rare, with highest incidence in Asia, between ages 50 to 60 years8. In descending order of incidence, affected sites include: vulva, perineum, axilla, penis and scrotum. Differential diagnoses include dermatitis, Bowen's disease, candida, squamous cell carcinoma, basal cell carcinoma and lichen planus6. A detailed physical examination, including a dermatological and lymph node assessment is essential for the diagnosis of penile EMPD. Approximately 12% of patients diagnosed with EMPD have associated internal malignancy. Screening of patients with EMPD is therefore advised1,2,8,9. Staging should be completed with a CT or MRI of the abdomen and pelvis. In cases with suspected underlying penile malignancy, sentinel lymph node biopsy helps detect occult disease10. Final diagnosis is established by biopsy and histopathology.
Surgery (wide local excision) is the treatment of choice for local EMPD3,8. Intraoperative frozen section analysis of the resection margins is recommended as the lesion can extend beyond the macroscopic extent7.The use of frozen section has shown a decrease in recurrence rate to 16-25%9. Appropriate management of the regional lymph nodes in patients with penile EMPD is crucial in reducing mortality10. The European association of urology recommends lymphadenectomy for patients with palpable lymph nodes. Patients with no palpable lymph nodes should proceed to inguinal lymph node dissection if they pertain to the intermediate or high risk disease group.
Radiotherapy, chemotherapy and photodynamic therapy have also been employed in the treatment of EMPD4,5. Recurrence rate of EMPD is approximately 30% with an average time to recurrence of 2.5 years6. Overall mortality of EMPD with associated internal malignancy is 26%1. Prognosis for EMPD is related to early diagnosis with definitive treatment of underlying tumour. We presented a rare case of EMPD of the glans penis secondary to primary urothelial carcinoma of the urethra. We emphasise a high index of suspicion in such cases, in view to achieve a correct diagnosis and subsequent curative treatment.
Conflicts of Interest
No conflicts of Interest
Corresponding author:
Mr Inder M S, Department of Urological Surgery, Tallaght Hospital, Dublin 24
Email: [email protected]
References
1. Chada J.J. Extramammary Paget's disease: prognosis and relationship to internal malignancy. J Am Acad Dermatol, 1985 Dec, 13:1009-1014
2. Park S., Grossfeld G.D., McAninch J.W., Santucci R. Extramammary Paget's disease of the penis and scrotum: excision, reconstruction and evaluation of occult malignancy. J Urol. 2001 Dec, 166:2112-2116
3. Zhu Y, Ye DW, Yao XD, Zhang SL, Dai B, Zhang HL, Shen YJ, Mao HR. Clinicopathological characteristics, management and outcome of metastatic penoscrotal extramammary Paget's disease. Br J Dermatol. 2009 Sep, 161:577-582
4. Banerjee S, Chatterjee M, Chand K. Extramammary Paget's disease. Indian J Dermatol Venereol Leprol. 2005 Nov, 71:417-420
5. Nardelli AA, Stafinski T, Menon D. Effectiveness of photodynamic therapy for mammary and extra-mammary Paget's disease: a state of the science review. BMC Dermatol. 2011 Jun, 11:13
6. Neil Sandhu, Dirk M Elston. Extramammary Paget Disease Clinical Presentation. Medscape. 2016 Sep Available: URL http://emedicine.medscape.com/article/1100397-clinical#showall [Accessed 14/10/2016]
7. Won Jae Yang ; Dong Suk Kim ; Young Jae Im ; Kang Su Cho ; Koon Ho Rha ; Nam Hoon Cho ; Young Deuk Choi. Extramammary Paget's disease of penis and scrotum: Diagnosis, treatment and prognosis. Korean Journal of Urology. 2005 Feb, 46: 159-162
8. Robert Anolik, Christine Liang, Nadia Wang, Karla Rosenman, Miriam Pomeranz, Edwin Joe. Extramammary Paget Disease. Dermatology online Journal. 2008, 14(10):16
9. Kingsley C Ekwueme, Hani D Zakhou and Nigel J Parr. Extramammary Paget's disease of the penis: a case report and review of the literature. Journal of Medical Case Reports. 2009 Jan, 3:4
10. Paul K. Hegarty, Oliver Kayes, Alex Freeman, Nim Christopher, David J. Ralph and Suks Minhas. A prospective study of 100 cases of penile cancer managed according to European Association of Urology guidelines. BJU Int. 2006 Sep, 98(3):526-31 526-531
(P772)