An Assessment of the Paediatric Internship at University Hospital Limerick over a 30 Month Period
D.M. O'Sullivan1, E.E. Kavanagh,1 Ul-Azam, S. 1, O'Reilly, P. 1, Murphy AM1,2, O'Gorman, C.S. 1,2
1.Department of Paediatrics, University Hospital Limerick (UHL), Limerick.
2.Department of Paediatrics, Graduate Entry Medical School, University of Limerick (UL).
Dear Sir,
Since the first appointment of Paediatric Interns at the Department of Paediatrics, University Hospital Limerick (UHL) in July 2015, twenty junior doctors have completed the paediatric internship program at UHL.
Negative experiences highlighted in previous Irish studies were the failure to protect time for research, excessive service and poor monitoring of trainers.1,2 An analysis of RCPCH hospital/child health visits reports for senior house officers (SHOs) outlined the need for further education, training and significant efforts on the part of trainers and managers.3 It is imperative to assess the strengths and shortcomings of the paediatric internship to ensure continuous quality improvements in physician training and to facilitate trainees to make informed decisions about a career in paediatrics, as well as encouraging their holistic career progression, including education, research and clinical experience.
A retrospective audit of paediatric internship training at UHL was completed using an online puropse-built questionnaire. Data collected included overall experience, merits and deficiencies in training and research outputs. The population comprised all doctors who completed paediatric internship training at UHL from July 2015 to December 2017 (N=20). Data were entered into Microsoft Excel and SPSS v23 was used for data analysis.
Demographic data, the expectations and experiences of the paediatric internship and post-internship contributions of paediatric internship are outlined in (Appendix 1).
Three participants had published a first author manuscript and two were co-authors, in a peer reviewed journals from research carried out during the paediatric internship. A further five participants reported that their research was 'still in progress'. There was one national platform presentation, nine national poster presentations and three who reported both platform and poster presentations. There was one international platform presentation, four international posters and one who reported both platform and poster presentations.
All of those who applied for a paediatric scheme (n=10) after internship were successful (not including the current interns (n=4) whose results are pending), with one participant on a New Zealand training scheme. All of those on paediatric schemes felt that the paediatric internship helped to secure these places.There was one participant on the GP scheme and another on the Psychiatry scheme. The remaining four doctors were still interested in pursuing a career in paediatrics.
Paediatric internship at UHL had a 100% satisfaction rate, with high quality teaching, research and mentors. This study is the first of its kind to analyse the paediatric internship experience. This post-graduate training opportunity is new to UHL, and according to this study, appears to be well-received by its graduates. We note that this internship opportunity is highly competitive and is also limited by recall bias. However, it was anonymous and pre-validated and thus we have made efforts to minimise any questionnaire-related bias.
The intern experience defined in this study would suggest that the interns would value further immersive experience in paediatrics, including on call commitments, and this is something which could be explored. These encouraging results are shaped by the local ethos supporting clinical excellence while also empowering UHL trainees to develop their research and education skills in paediatircs.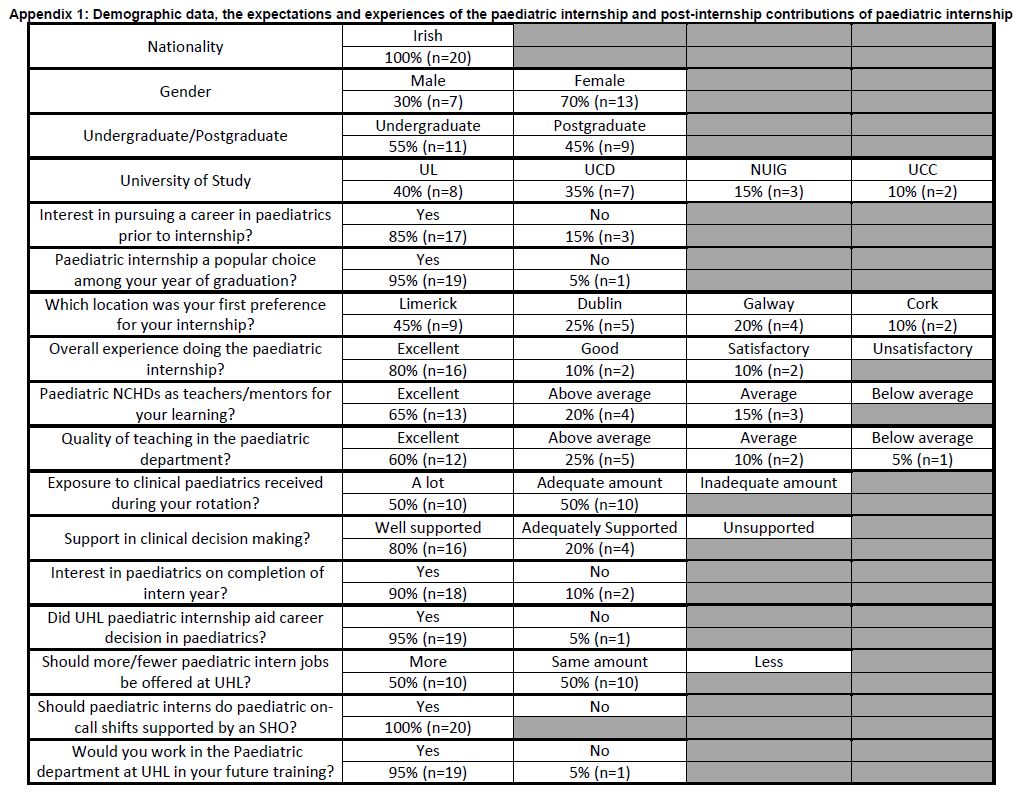 Corresponding Author:
Prof. Clodagh O'Gorman, Paediatric Department, University Hosptial Limerick, Dooradoyle, Limerick.
E: [email protected]
T: 061 234961
References
1.Byrne OC, Boland B, Nicholson AJ, Waldron M, O'Neill MB, 2005 Jan. Training and manpower issues for specialist registrars in paediatrics. How are we doing and where are we going?. Ir Med J., Volume 98(1), pp. 13-5.
2.Oneill MB, Freyne B, Nicholson AJ., 2013 Sep. Higher specialist training in paediatrics 2005-2010, the graduates' reflections.. Ir Med J., Volume 106(8), pp. 248-9.
3.Smith CP, Anderson JM, 2003 May. Education and training in the paediatric senior house officer grade: analysis of RCPCH hospital/child health visits reports, 1997-2001.. Arch Dis Child, Volume 88(5), pp. 450-3.
P796