"Ocular Tumors"
ESASO Course Series
Karger publishing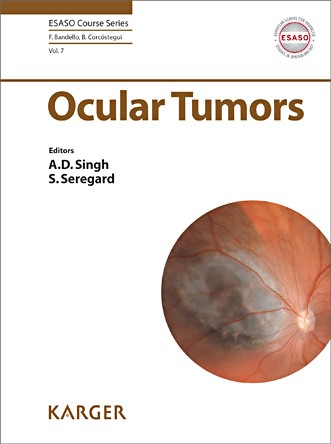 Intraocular tumours are rare in the overall context of retinal disease. Therefore, in an ophthalmologist career, they may encounter these tumours on only a few occasions. Uveal melanocytic tumours and retinoblastomas both at different ends of the age spectrum are the most common. They are the most written about and most widely encountered.  However, the authors have covered the whole spectrum of intraocular tumours in particular intraocular vascular tumours, lymphomas with intraocular metastasis.
The chapters are comprehensive, well written and very relevant with useful practical information, particularly, in terms of diagnosis, management and prognosis. These are backed up with good colour illustration and tables on differential diagnosis. Chapters that stood out include those of uveal melanomas, retinoblastoma lymphomas and ocular metastasis. These are up to date on genetics and newer treatment modalities.
In text books of ophthalmology and in resident leading programmes ocular tumours are covered in a fragmented fashion. In many instances melanomas and retinoblastoma are the only ones that are taught.
This is not meant to be a definitive text book on ocular tumours but it is comprehensive and readable. It is up to date with relevant information. It will become an excellent resource of doctors in training as well as general ophthalmologists.
Dr Michael O'Keefe, Suite 5, Mater Private Hospital, Eccles Street, Dublin 7
p441